Session Fee  Weekdays $200   –   weekend session $250
On Location for up to 6 people, includes a $100 Print Credit
The session fee covers the time and talent of the photographer and his assistant, and includes a $100 print credit, which can be applied to a collection, à la carte prints, storyboards and various other products. It does not cover the cost of products or digital files. The session fee is due at the end of the scheduled session. While Doug and Lorenza typically shoot a few hundred images, you will be shown the very best 20-25 edited images from your session.
Session Time  There is no time limit for your session as every shoot is unique, but most run between one and two hours. We take as long as needed to create high quality photographs we know you'll love and we're never in a rush.
Soon after your photo session, you'll receive a link to your own personal online gallery. This will be up for 10 days during which you are able to review and select the portraits for your order. If the order is not placed within 10 days and the gallery needs to go up again, there is a $25 rehosting fee and the gallery is then only available for 3 days.
Prints & Products are sold à la carte listed below.
Back to School Mini Sessions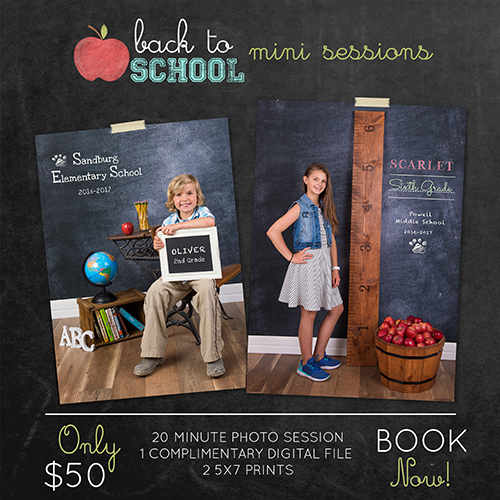 Contact us to book your session!
Metal and Bamboo Collection
Metal prints are a brilliant alternative to traditional printing. With incredible vibrant color, sharp detail reproduction and unsurpassed durability, this product is sure to compliment your artwork for generations. Metal Prints are more than just prints: they're waterproof, UV resistant, and Eco friendly being made of 100% recycled material. Your image is permanently part of the aluminum sheet making it an extremely durable product and best of all it is ready to hang as soon as it arrives at your door!
Display Options: Easel, Foam Float Block. Small and Large Standoff Posts (for an extra charge)
Made from carbonized vertical grain bamboo, Bamboo panels are a sustainable, FSC certified material. These beautiful solid wood mounts are very durable, yet still eco-conscious. With a pre-drilled keyhole on the back, they are ready to hang as soon as the box arrives at your doorstep. Bamboo Panels are 3/4" thick and are available on beautiful photographic papers. (Fuji Luster, Fuji Pearl, Fuji Deep Matte, Kodak Metallic)
Gift Prints
Wallets | $25
4×6 | $30
5×7 | $30
8×10 | $50
Wall Portraits
8×12 | $75
12×18 | $100
10×20 | $125
16×24 | $150
20×30 | $250
Signature Collection Metal
Signature Collection on Metal
8×12 | $125
10×10 | $125
10×20 | $200
12×18 | $225
16×16 | $250
16×24 | $400
20×30 | $500
Signature Collection Bamboo
Signature Collection on Bamboo
8×8 | $125
8×12 | $150
12×12 | $175
10×20 | $250
16×24 | $500
20×20 | $550
20×30 | $650
Signature Collection Canvas
Signature Collection on Canvas
8×8 | $145
8×12 | $165
12×12 | $190
10×20 | $265
16×24 | $500
20×20 | $550
20×30 | $650
* Prices do not include 6.7% sales tax and shipping.